Nora Turato – and then they say it's true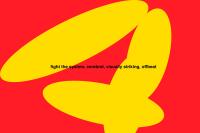 Kunsthaus Digilab presents its newest artwork in the digital space, a new video work by Amsterdam-based, Croatian artist Nora Turato (*1991).
Turato's project for the Digilab incorporates extracts of her most recent performance script 'what is dead may never die' within a multi-part video. Animated, long egg-like shapes (or 'coins' as termed by the artist) are found bouncing across the screen, descending and tumbling into each other, as if choreographed in a way to follow the laws of physics. Each segment of the video sees the shapes engage in a myriad of different actions as Turato delivers a monologue voice-over collaged from excerpts and phrases lifted from a multitude of sources. The amassed fragments of language are extracted by Turato from everyday banalities such as text message conversations, click-bait headlines, memes, advertising or food packaging, to name a few. These choices of what to lift and from where are determined by an intuitive selection rather than some predisposed sense of value or hierarchy - here, each phrase shares even ground, regardless of its origin.
Turato repeatedly employs strong, recognisable graphic elements within her works, ones which command both attention and an immediate familiarity of sorts. If previously she drew from such identifiable visuals as warning labels on cigarette packaging or Venn diagrams - the notorious staples of office culture, Turatos project for the Digilab references mindfulness videos found on Youtube or breathing apps such as 'headspace'. These programmes and clips, which combine simplistic animated pictorial cues with voice-overs, purport to create a hypnotic, soothing effect on the viewer (the irony is not lost on the fact that these very tools that are to aid us in tuning out, require us to tune in and engage further with our screens in search of a 'state of higher consciousness'). Turato mimics these compositions, as her shapes move and morph along to her script. Within that, she considers how to use a digital space and bring a physicality into it.
The core of Turato's work can be seen as deeply rooted in her exploration of language - how it functions in the ever-constant cycle of information at our disposal and the collective relationship and understanding we have of it. Her practice covers an expansive breadth of approaches in examining it, encompassing performance, wall murals, printed media to videos and artist books. Turato most recently presented 'what is dead may never die', at MoMA, New York. Performed over three consecutive weeks, it marked her first major institutional exhibition in North America. On the occasion of the exhibition, 'pool 5' was released - the fifth volume in a series of annually self-published books holding the yearly collections of text and phrases accumulated by Turato which largely provide the basis for further aspects of her practice.
Nora Turato (*1991 in Zagreb, lives and works in Amsterdam). Recent exhibitions include 'pool 5', MoMA, New York (2022); 'ri-mEm-buhr THuh mUHn-ee', Secession, Vienna (2021); 'That's the only way I can come', MASI, Lugano (2020); 'Eto Ti Na', MGLC, Ljubljana (2020); 'MOVE2020', (curated by Caroline Ferreira), Centre Pompidou, Paris (2020); 'what do you make of this? did you make this up?', Philara Collection, Düsseldorf (2020); 'Someone Ought to Tell You What It's Really All About', Serralves Museum of Contemporary Art, Porto (2019); 'Explained Away', Kunstmuseum Liechtenstein, Vaduz (2019).
Turato has been featured in major group exhibitions including 'INFORMATION (Today), Astrup Fearnley Museet, Oslo (2022) and Kunsthalle Basel (2021); 'Post-Capital: Art and the Economics in the Digital Age', MUDAM, Luxembourg (curated by Michelle Cotton) (2021); 'The Dreamers', 58th October Salon, Belgrade Biennale (curated by CURA) (2021); 'Wild Frictions: The Politics and Poetics of Interruption', Cincinnati Contemporary Art Center and Kunstraum Kreuzberg/Bethanien, (both 2021); 'It's Urgent!', Luma Westbau, Zurich (curated by Hans Ulrich Obrist) (2020); Manifesta 12, Palermo (2018) amongst others.
Caption:
Nora Turato
fight the system, cerebral, visually striking, offbeat, 2021
Courtesy of the artist and Galerie Gregor Staiger, Zurich