'The Distractor' by James Bridle
Now live until 09.06.2024!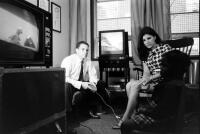 'The Distractor' is an installation by James Bridle, recreating a pivotal moment in media history. In the 1960s, researchers at the Carnegie Corporation in the United States realised that greater numbers of children had access to television than to kindergartens, and they set out to use this new tool to fill a gap in early years education. In 1968, they founded the Children's Television Workshop (CTW) to research and develop educational television programming for young children. CTW's first and most famous creation was Sesame Street, one of the longest-running television shows in the world.
CTW hired Harvard professor Edward L. Palmer to help make its programming as effective as possible. Influenced by behaviorism, a popular movement in contemporary psychology, Palmer developed an apparatus which became known as 'the distractor'. In order to measure how much children were paying attention to what was on the screen, television shows were screened in schools and daycare centres alongside a rapidly changing slide show of random images. An assistant monitored which screen the children were looking at, and new episodes of Sesame Street were only released when episodes scored more than 90% attention over the random images.
Bridle's work frequently explores the influence of new technology on politics, culture, and society. The research performed by CTW in the 1960s and 70s laid the groundwork for screen-based educational programming worldwide, and Sesame Street made a positive difference to the lives of millions of children, especially for many from disadvantaged backgrounds. At the same time, it marks a moment in which technological solutions were chosen over social ones, and education was outsourced to screens and corporations. Today, techniques developed by educationalists in the 1960s are deployed in automated systems, such as mobile apps and social media, and make possible the global 'attention economy', under which human attention is treated as a resource to be captured and exploited.
Accompanying the installation is an online work by Bridle, which uses the Kunsthaus' digital collection as a contemporary 'distractor'. A web page located at [here] shows information about a random work in the collection whenever it is accessed. By setting this page as their new tab homepage, a new work is shown every time a new tab is opened in the browser, inserting art works into the flow of daily browsing.
To set the site as your homepage, follow these instructions for Chrome, Safari, and Edge.
Image caption:
'Children's Television Workshop – 4 yr. old pre-school student at a Day School Center in Harlem watches 'Sesame Street''; her reaction & attention span is being tested by National Education Television researchers. © Grey Villet/The LIFE Picture Collection/Shutterstock