Gustav Klimt (1862 - 1918)
11.09.1992 – 13.12.1992
Curated by Toni Stooss.
Location Pfister-Bau (Grosser Ausstellungssaal, ehem. Bührlesaal).
1/3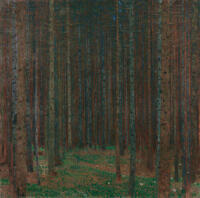 2/3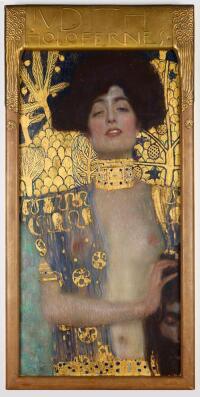 3/3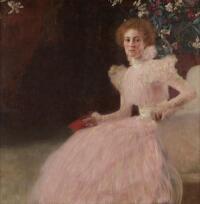 With 248,738 visitors, the Klimt exhibition was, to that point, the most visited at the Kunsthaus Zürich. The theme of the exhibition also seemed to have come from a long-developed tradition, for Viennese artists were always gladly seen guests at the Kunsthaus Zürich: Carl Moll (co- founder of the Viennese Secession and stepfather of Alma Mahler) had curated already in 1918 "Ein Jahrhundert Wiener Malerei" (A Century of Viennese Painting) with works by Gustav Klimt and Oskar Kokoschka among others.
This exhibition was the first comprehensive Klimt retrospective in Switzerland with 59 paintings, 138 drawings and 68 documents. The mix of media enabled the public to grasp Klimt's creativity in all its breadth and art-historical significance. 'The Kiss' (1907) was already widely known at that time, but it alone cannot represent his creative work. What was sensational was rather that even this world-famous painting found its way to Zurich and the sensual theme was explained and localized by Aura Arici in detail and in terms of the history of ideas in the exhibition catalogue. Other known highlights like 'Judith I' (1901, Belvedere Museum, Vienna) and 'Die Jungfrau' (The Virgin, 1913, Národní Gallery, Prague) stood out among the exhibits, in addition to many lesser-known and for that reason all the more exciting landscapes or pictures with curious motifs, such as the interior of a stable and the audience at Vienna's Burgtheater. That these national art treasures were even permitted to leave Austria is due especially to close cooperation with the Belvedere, but also to a top-ranking patronage committee from the field of politics. A special gain in recognition was that Klimt was presented as a public and extremely modern figure, which was achieved on the basis of documents from Emilie Flöge, the famous fashion designer and life companion of Klimt, and also on that of photographs by Madame d'Ora. With its 248,738 visitors the Klimt exhibition was the most frequented at the Kunsthaus Zürich to date, followed by that of Edvard Munch (1987, curated by Guido Magnaguagno, with 226,114 visitors), 'Monet's Garden' (2004, curated by Christoph Becker, with 224,050 entries) and 'Pablo Picasso' (2010, curated by Tobia Bezzola, with 222,334 visitors).
Further information
no exhibition catalog online
'What today's visitors appear to be looking for, the promise of happiness which has survived "in spite of everything", is granted, due to the perpetual celebration of Klimt's painting and the liberated, "timeless" eroticism of his drawings.'
Toni Stoos, exhibition curator