26.05.1978 – 30.07.1978
Curated by Erika Billeter.
Location Pfister-Bau (Grosser Ausstellungssaal, ehem. Bührlesaal).
1/1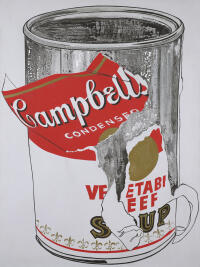 Of all the artists of his generation, Andy Warhol has achieved the greatest popularity. His name is familiar even to those who are not concerned with art professionally, and to this day he has become the very essence of Pop Art. But for the curious it is not enough to look at works by Warhol. They want to see the man himself.
A series of events has resulted in Andy Warhol having a strong connection with Switzerland and Zurich. Best known is probably his association with the art dealers Bruno Bischofberger and Thomas Ammann. To that extent, this first retrospective in Europe to honor Warhol, who was already world famous at that time, could have happened sooner. Unlike today, however, Warhold was then a very controversial figure in the art world, with his closeness to commerce and pop culture and to show business and the world of fashion. In all probability, this mixture of 'high and low' must have seemed disreputable to the Zürcher Kunstgesellschaft and the educated middle class, though not to a wider public, as is reflected in the large crowds of visitors. The exhibition, curated by Erika Billeter, included 181 exhibits, which is an impressive number considering that there were some very large formats, up to 3 meters in width. In the face of the exploding sales prices in recent years, a show of this kind would hardly be possible today due to actuarial costs. It is all the more necessary to emphasize that this exhibition is one of the first in the institutional context of a museum, for in the 1970s – with the exception of the Whitney Museum of American Art, where a retrospective was devoted to him in 1971 – any shows apart from gallery presentations were relatively rare in comparison to today. Considering today's canonization of Warhol, it is hard to understand the ambivalence the artist could provoke in people. It was partly reflected in sharp-tongued voices in the media response, so that one finds both enthusiastic and derisory opinions among the opinion makers, as illustrated by the following examples from the press: 'In the Kunsthaus Zurich there is a belief that a gap needs to be filled and that the Andy Warhol show from 1970 in London, Stockholm and Paris must be trumped, if possible. With an initial overview of his work, from drawings on cards by the schoolboy for his mother through the painted luxury slippers for ballet prima donnas to the latest portraits, that has been achieved. […] But the question of artistic gains from this monster show, indeed the question of the extent to which we are dealing with art at all, remains open. If we take the artist himself at his word, he is not even trying to do any such thing.' (E. M. Landau, 'Der Rattenfänger aus Pittsburgh' [The Rat-Catcher from Pittsburgh] in: Deutsche Tagespost, Würzburg, 6.17.1978) 'Signing with a brand-name is thus part of this artistic relationship and has only a compositional function in this artificial stage-play, which maintains its two sides, its anonymity, and its absolute distancing. Thus, any visitor to the Warhol show, curated in the Kunsthaus Zurich by Erika Billeter with taste and skill […] must depend entirely on their sensitivity and the flexibility of their reactions, to experience the new mythological significance of the pictures.' (Erdmann Neumeister, 'Süss und banal wie das Leben selbst' [As sweet and banal as life itself] in: Frankfurter Allgemeine, 6.8.1978)
Further information
no exhibition catalog online
'Machines have fewer problems, which is why I would like to be a machine – wouldn't you?' – Andy Warhol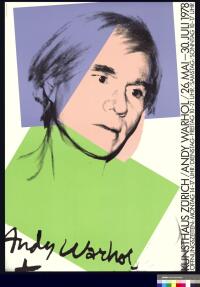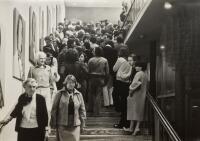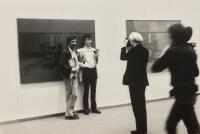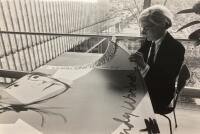 1/4