Latifa Echakhch. Goodbye Horses
16.11.2012 – 24.02.2013
Location Erdgeschoss Müllerbau.
1/1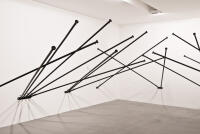 Latifa Echakhch's View Behind the Scenes at the Circus
A brilliant yellow and red tent dangling loosely from the ceiling, an aero wheel, colored pennants, platforms, juggling clubs, a blue balancing ball, a dress covered with spangles, a clown's costumes. Such props from the circus world were to be seen in the collection rooms in the Müllerbau section of the Kunsthaus. These not very inviting rooms are rarely used for installations, but with 'Goodbye Horses' Latifa Echakhch created an utterly commanding stage. Only four years earlier, Echakhch, one of the most remarkable rising stars on the international art scene, had appeared for the first time as a then unknown force in a group exhibition at the Kunsthaus Zürich ('Shifting Identities', 2008). A few years after Goodbye Horses, her work was then seen in the Swiss pavilion at the Venice Biennale (2021). The life story of the artist, who was born in El Khansa, Morocco, in 1974, grew up in France and today lives in Valais, Switzerland, supplied some of the themes of the exhibition curated by Miriam Varadinis, without forming a direct illustration of her identity. Again and again, it was about nationality (flagpoles), religion (prayer rugs), belonging or feeling foreign (tea glasses), inclusion and exclusion – not least as an artist on the art scene. The curator pointed out (in the St. Galler Tagblatt) that the artist presented 'questions of our times with minimal means and great precision'. And yet Echakhch's art is charged with sensuality and poesy but also with 'a certain smoothness' (Le Temps). The horses in the title of the Kunsthaus exhibition refer to a popular theme in art, the circus. And yet Echakhch, one might say, dismissed everything that characterizes the circus – the liveliness, the loud music, the acrobats and even the horses. What was left was an uncanny emptiness, which made a new interpretation possible without imposing it. 'Art should be easy to understand so as to provide a deeper understanding then for the viewer', the artist was quoted in Der Spiegel.
'Art should be easy to understand so as to provide a deeper understanding then for the viewer.'
Latifa Echakhch